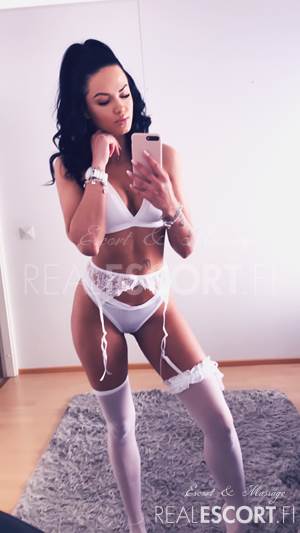 Ad was picture validated 1 month ago
Angel
Now located in Helsinki (Helsingfors)
Info:
Tattoos
Both arms
Back
Front
Neck
Stomach
Breast
Prices:
Reviews: Overall satisfaction
Good: 73 | Bad: 2
Description
Welcome to my profile!

🔴 Hello, my name is Angel...if you are looking for a unique company, you are in the right place!! I'm waiting for you in my cozy private apartment as always in KAMPPI AREA!

❗️LAST DAYS IN FINLAND!

❓You've been waiting for me? Here I am! ♥️

‼️ I'm finally back in Helsinki after a long break, I hope you missed me, I sure missed you!
It will be a short visit and I hope to come back soon again!!

❗️Due to this COVID-19, our health is the most important.
✅I got the complete Pfizer vaccine (3 shots), I'm healthy with a strong immunity, I use the app Koronavilkku for our safety and I do my best to make you feel protected, safe and comfortable, so I'm prepared with:

✅Hand disinfectant.
✅Fresh cleaned towels as always.
✅Everything in my private apartment is freshly disinfected.
⛔️Please don't contact me if you have a flu or you have the symptomps of this virus!
🙏🏼 Kiitos!

So...Do you believe in Angels? 😍 Let me show you how Heaven looks like!

I'm 100% REAL and INDEPENDENT ESCORT, ready to have fun!
As I'm INDEPENDENT, I'm always ALONE in my apartment!!!
I don't have friends in this job, so we will spend our time together only you and me.

✔️ I'm verified by the site as being real with 100% real photos!
You can see the golden ✔️ on the left of my profile!
I didn't make professional photos, all are made by me with my phone, so what you see, is what you get!
This is my one and only ad on this site. I'm unique and I don't like to be compared with some other escorts 😋
—> CHECK OUT MY NEW PHOTOS, VIDEOS AND REVIEWS! ♥️
(I have more than 70 photos on my ad and videos with me, also more than 40 reviews...I think they are enough to prove I'm real. Please don't ask for more pictures of me.)

I'm sure you heard about me, I'm one of the most popular escort in Finland, with a lot of good reviews and recommendations! I have been working in this country for more than 3 years, I'm professional, playful, discreet and always in good mood! I'm sure you will be addicted to me!
Everyone from all of the cities of Finland knows I'm THE PERFECT COMPANY and I can't wait to show you MY SECRET! Everyone loves it! 😏

Everyone of my today's customers are my tomorrow's regulars!

FOR ME IS IMPORTANT THE QUALITY OF MY SERVICES ALSO TO MAKE YOU FEEL COMFORTABLE AND PLEASED IN MANY WAYS!

‼️Please pay attention about my details before contacting me:

‼️ SOME OF MY SERVICES MIGHT BE EXTRAS! FEEL FREE TO ASK! ❗️
‼️‼️ MY REGULAR PRICES DOESN'T INCLUDE THE EXTRAS I MAKE!

🎀 I'm using SIGNAL too: +358414907310
Or VIBER: +358414907310
Try to make an appointment with at least 30min-1 hour before you want to come, usually I'm busy so I don't take "I want now" in consideration.
🖐🏼Please confirm your booked time with me!

📵TRY TO BE ON TIME! I DON'T WANT TO COUNT THE MINUTES WHEN WE ARE TOGETHER. You have to understand that it's my job and I'm busy most of time! I respect all of my bookings and my clients also (I don't want to make them to wait in front of the building).

❗️You can call me with video-call to see that I'm 100% real!
❗️As I am independent, usually I'm busy and if you can not reach me by the phone, I'll answer to you as soon as I'm free!

✌🏽 I'm not looking for a specific kind of a men, your character and how you treat a women will say everything about you. I'm looking for an honest, respectful, polite and funny man who wants to spend a good time with me! Not the appearance is important for me, you just have to be a gentleman. Also please understand that I WANT to make money, I DON'T HAVE to make money so I have the right to choose with who I want to work or not!!!
I'm not racist, so please don't feel offended if I'm gonna refuse you.

I'm a french standard super feminine and sexy lady, I'm coming from Nice, France...I played basketball 12 years, I'm always funny, smart with an athletic tanned body...I'm 26 years old, black hair, brown eyes blazing, 178cm tall, exotic soft skin and lush hair. I'm sure you will love my dangerous curves! I have also tattoos, as you can see, I love butterflies!
If you want to make your fantasies into reality, don't hesitate to call me, I'm the perfect girl that you're looking for! I'll be waiting for you!

🚿Hygiene is important for both of us, so you have to take a shower before our meeting! Anyway you have to take one to my place!

Only for gentlemen of taste and lovers of quality!!

‼️I'M EXPERT WITH THE BEGINNERS AND I KNOW HOW TO TREAT YOU!!! ALSO IF YOU ARE SHY! To my place you'll feel uninhibited!

👎🏻Please don't call me with a private number, I will not answer! Discretion is a must, I respect your privacy, so don't worry about this!

❗️Please don't ask for kissing, I don't kiss my clients, I'm a professional and I do my work very well, you won't miss the kissing part, trust me!

❗️Please don't try to negotiate the price, I'm not a Turkish Market!!!!
With me is not about the quantity is about quality!

‼️‼️Dear costumers, as you know I had more than 60 good reviews. They've been deleted by the system of the site because some of them were older than 1 year and 5 months...this will happen to all of the girls! So don't worry, I'm still the most popular and top rated escort in Finland!!🤪

I really can't wait to meet you!

❗️❗️❗️P.S: DEAR GIRLS, PLEASE WRITE YOUR OWN TEXT, DON'T COPY-PASTE IT OR INSPIRE FROM MINE. IT'S ORIGINAL AND I WANT IT TO BE LIKE THIS!!!!
I HOPE YOU'RE SMART ENOUGH TO DO THIS! IF NOT, FEEL FREE TO CONTACT ME, I WILL HELP YOU!
PLEASE TRY TO BE UNIQUE IN YOUR OWN WAY!❗️❗️

Kisses, Angel
Contact
Accepts sms: Yes
Accepts WhatsApp messages: No
Answer secret numbers: No
Say: I found your ad on RealEscort
I speak:
French: Good
English: Good
---
Please tell me that you found my ad on www.realescort.fi
General Warning!
NEVER SEND MONEY IN ADVANCE if you book an escort service!
These ads are mostly and probably SCAM. They usually require your verification as a new client
by sending a certain amount of money by Paysafecard, coupons, Google play card, PayPal etc.
This is a general warning we give to all visitors, it is not about this specific ad you are visiting.
Services
Red warning icon means, service has special instructions, click to read more.